GENEX
FIBREGLASS SCAFFOLDS AND LADDERS
GENEX is a scaffolding manufacturer founded in 1993 with the aim of producing a range of composite scaffoldings made of fibreglass and nylon-reinforced structural joints with a distinctive design and high-level technical specifications.
Today, GENEX scaffolds are widely used around the world – particularly where maintenance operations are conducted according to extremely strict regulations – and are considered a leading reference point for their performances.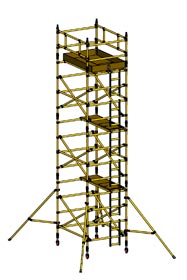 PRO-SAFE, the innovative scaffolding which combines the UNI-TEC features with a new idea of scaffolding with integrated ladder. Its yellow colour distinguishes it anywhere.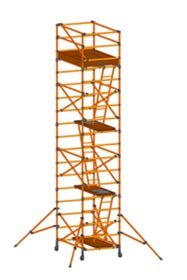 UNI-TEC CON, the innovative and original modular scaffolding in fibreglass with high mechanical resistance nylon structural joints.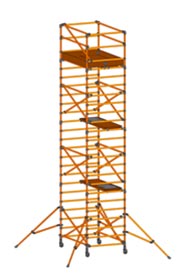 UNI-TEC TUV, has the same UNI-TEC CON structural and resistance features. It is ideal for maintenance operations in dangerous environments, and differs from UNI-TEC CON and PROSAFE in the SPAN 300 distance.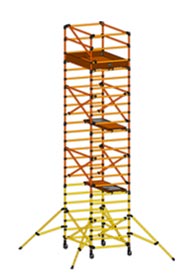 UNI-TEC CON INSULATING, a unique scaffolding, modular and insulating, it ensures maximum safety during under-tension operations.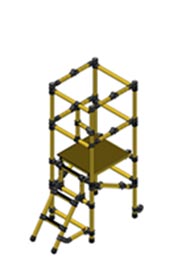 GRP-PODIUM STEPS, designed to comply with the current safety regulations for those who work at a maximum height from 3,00 m and 3,50 m, in high-risk places such as electrical plants, chemical plants, foundries, oil refineries and nuclear plants.
Find out how easy it is to mount a Genex scaffolding. Sounds like a game, isn't it? There are many professionals who use it every day, from restoration to maintenance work to buildings, always in total safety.
"Our main activity is maintenance of eletric substation and we use fibre glass scaffoldings. We own 20 scaffolds and they're all Genex. We chose them for their strength and versatility, and for their ease of transport. The quality of Genex products makes our job easier". REN – PORTUGAL
"I chose Genex scaffolding because their quality and design are perfect. And then they are so easy to assemble … ideal for working even in highly dangerous areas, such as gas station areas". AZN O&M NARENDRA – KUWAIT
"The ease of assembly is the first noticeable advantage of Genex scaffolding. And this becomes essential when work times are limited on site. Moreover, in areas where machinery are difficult to access, Genex scaffolding is the ideal solution, especially in our railway yards".  MERMEC ITALIA – BARI
"In our opinion the most important features of Genex scaffolding are strength and reliability. We own more than 100 pieces and we rent them in the chemical, railway and power stations". ALUFASE – SPAIN
"We use Genex scaffolds mainly for electrical insulation, but also for maintenance of electrical transformer stations: this is a truly delicate activity that requires the utmost attention in terms of safety.  At the moment we have 3 Genex scaffolds; we have chosen them for their performance and the good quality price ratio". QUADROMOR – PORTUGAL
"We work as partners of Siemens Spain and we use Genex TUV scaffolds for high voltage equipment assembly. The main words to describe Genex products: simplicity and speed of assembly, reliability". A.C.G. Ingeniería, S.A – SPAIN
"We have chosen Genex Podium for the dielectric material by which is made and the lightness that allow us to operate in absolute safety near the power lines in railway stations." ETH – FRANCE
"In our opinion, the winner features of Genex Scaffolding are high-quality materials and endurance to atmospheric events. While working on switchyard areas, these products are also really easy to transport on site." EGAT – THAILAND
"I am a restorer and I have been using Genex Scaffolding for more than 20 years. They are very easy to handle because they are really very light and quick to assemble. They are also perfect for working on uneven ground, such as the presence of steps, and for construction sites not reachable by vehicles." KATIA ZANETTI RESTORATION – ITALY